Organic Brown Linseed (Flaxseed)
Lotus Organic Brown Linseed is the most concentrated plant source of omega-3 fats. It is rich in dietary fibre and antioxidants. Mix into cereals, muesli, muffins and breads.
10 in stock
Reviews (0)
Additional Information
Nutritional Facts
Intolerance Information
There are no reviews yet.
Only logged in customers who have purchased this product may leave a review.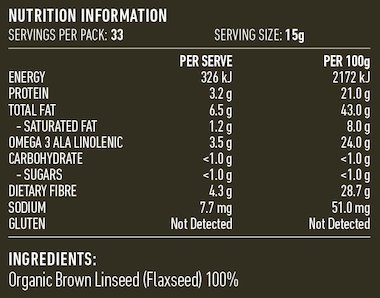 Amount Per Serving
* Percent Daily Values are based on a 2000 calorie diet.
All product and allergen information is obtained through our suppliers and is provided only as a guide. Ryan's Grocery (S) Pte Ltd cannot guarantee the accuracy of all information presented, and accepts no liability in respect of any omission or error.
Gluten Free
Organic
Soy Free
Vegan
Vegetarian
Yeast Free
You May Be Interested In
S$9.90(200g)
Mix & Match15% Off Any 2 Ryan's NEW Breakfast, Nuts and Snacks
Join Our Newsletter
Subscribe to Ryan's Grocery for new arrivals, promotional deals and seasonal drops.