Almond Meal
Promotional Batch: 28 June 2021
Almonds are among the world's most popular tree nuts and are the edible seeds of Prunus dulcis, more commonly called the almond tree. They are highly nutritious and rich in healthy fats, antioxidants, vitamins and minerals. They are also used to produce almond milk, oil, butter, flour or paste — also known as marzipan. Almond meal is made from ground, blanched almonds. With a consistency which is more like corn meal than wheat flour, it's super versatile to bake with and a great alternative to wheat-based flours. Almond meal can also be known as almond flour. Both are created out of finely ground almonds and there is no official difference between the two. If you're looking for a low-carb flour that's rich in nutrients, almond flour is a great choice.
20 in stock
Additional Information
Nutritional Facts
Intolerance Information
Reviews (0)
FEATURES
Nature First Almond Meal is packed in Australia from local ingredients and comes in a re-sealable oxygen barrier bag to preserve freshness.
BENEFITS
• Rich in protein & antioxidants • Gluten Free • Low in carbohydrates • Improves heart health • Boosts energy Nuts are low in carbs but high in healthy fats, protein and fibre. The most important health benefits to almond meal include its ability to improve heart health, help protect against certain cancers, lower your risk of diabetes, boost energy, and aid in weight loss, among others. Almonds are high in healthy monounsaturated fats, fibre, protein and various important nutrients and are also a great source of antioxidants. The powerful antioxidants in almonds are largely concentrated in the brown layer of the skin. Almonds are among the world's best sources of vitamin E, with just 28g providing 37% of the RDI. They are also a good source of magnesium, a mineral that many people don't get enough of. High magnesium intake may offer major improvements for metabolic syndrome and type 2 diabetes. The magnesium in almonds may additionally help lower blood pressure levels. It's a protein-rich flour that's often used in gluten-free and Paleo diet cooking. It's incredibly nutritious and low in carbohydrates and provides many potential health benefits including a reduced risk of heart disease and improved blood sugar control.
INGREDIENTS
Ground blanched almond kernels
Packed in Australia from local ingredients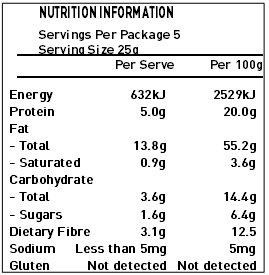 Amount Per Serving
* Percent Daily Values are based on a 2000 calorie diet.
All product and allergen information is obtained through our suppliers and is provided only as a guide. Ryan's Grocery (S) Pte Ltd cannot guarantee the accuracy of all information presented, and accepts no liability in respect of any omission or error.
Gluten Free
Vegetarian
There are no reviews yet.
Only logged in customers who have purchased this product may leave a review.
Join Our Newsletter
Subscribe to Ryan's Grocery for new arrivals, promotional deals and seasonal drops.